Every year around 10,000 piglets are born at the Loutsch family pig farm. Around 1,500 of these quality piglets are also fattened at the farm, whilst the rest are sold to a fattening farm in Luxembourg. This is all done in accordance with the 'Marque Nationale Lëtzebuerger Schwéngefleesch'. At the farm, 300 fertile breeding sows are divided into five groups and, every four weeks, 60 sows are serviced, which then farrow together just four months later. "This way we get groups of around 720 to 800 piglets as required by the fatteners," explains Claude Loutsch.
Feeding and checking the pigs takes three to four hours a day, but the family shares the workload between them, along with a single employee. They have around 50 hectares of land where they grow bread wheat, as well as energy crops for the 'Biogas Beckerich' cooperative, of which they have been an active member for 16 years.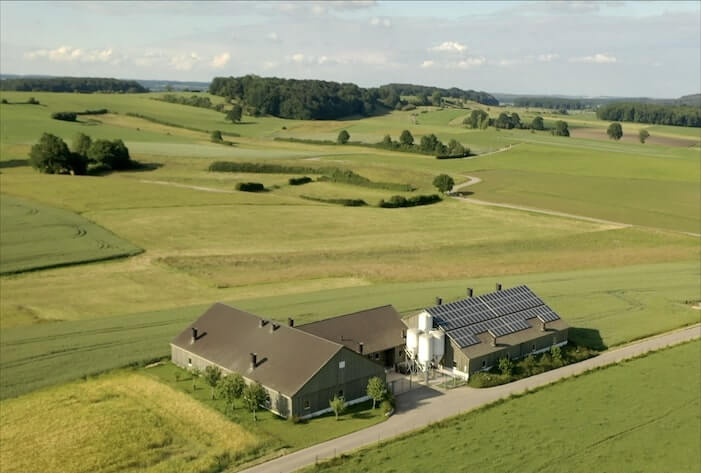 On the whole Claude Loutsch really enjoys his job as a farmer, however he sometimes gets disillusioned with the conditions and circumstances involved. "When I started this wonderful job 20 years ago, after finishing school and a nine-month placement abroad, I wanted to build a business that would allow me to live a decent life here in Luxembourg. I think that I have succeeded in doing so, but unfortunately, due to constantly changing requirements, scarcity of land and the resulting pressures – but also due to price dumping in the food retail trade in our area – it is now almost impossible to maintain profitable pig production," says Claude Loutsch, airing his concerns.
Claude also offers customers pork using direct marketing via the 'Fierkelshaff' as he is confident in the excellent rearing and quality of his pigs as a result of all the hard work done at the farm. The complimentary feedback from his satisfied customers motivates him to carry on.
Why buy locally?
By buying meat from the region, customers support the farms as well as other related businesses such as abattoirs and butchers. "When piglets are born, reared and slaughtered in Luxembourg, it's a short distance from field to plate, meaning we can not only guarantee a high quality of meat, but also the well-being of the animals," explains Claude Loutsch.
He adds that, in small Luxembourg businesses, the animals are not looked after by cheap labour, but by highly qualified workers, and quite often by the farmer himself. "Production in Luxembourg is subject to strict laws and regulations, which are also controlled, which of course makes it a lot more expensive. When customers purchase regional food products, it ensures that jobs remain within the region and that both the welfare of the animal and environmental standards are respected."
Marque Nationale Lëtzebuerger Schwéngefleesch' – i. e. animals that are born, reared and slaughtered in Luxembourg – means a short distance from field to plate, respect for animal welfare and the best quality meat from Luxembourg farmers.