The very first thing that David L'Ortye does each morning is to check on his Limousin cattle. His holding in Pintsch specialises in suckler cows and is farmed on an extensive basis. In winter, there are the usual tasks to be done in the cattle sheds: feeding, laying down straw, etc. The suckler cows calve all year round, so the farmer has to check on and attend to the calves and the pregnant cows every day. At the start of the year, the meadows and fields have to be prepared; at this time, David L'Ortye has his hands full. In the summer months, there is the harvesting to be done, as well as the production of haylage and silage, and the straw is baled. At this time, the farmer devotes himself primarily to the second mainstay of his operation: growing vegetables.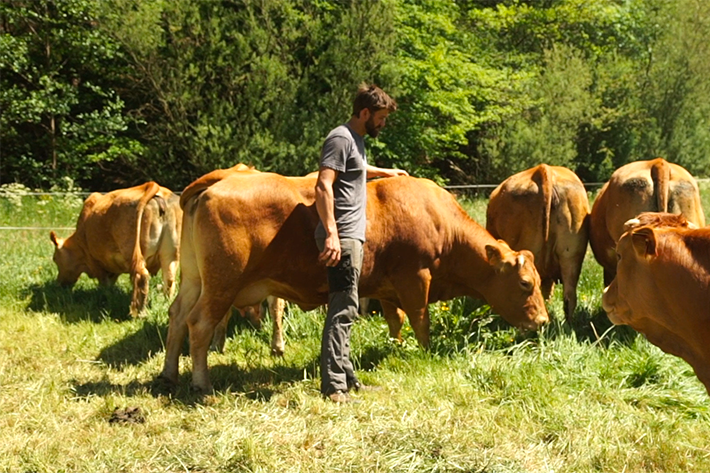 Together with COOPERATIONS Entreprises Socio-Culturelles, David L'Ortye operates a sheltered workshop on his farm, in which people with disabilities work in the production of vegetables. Around 40 different cultivars are grown in the three greenhouses and open-air beds. The vegetables are supplied to COOPERATIONS' restaurant in Wiltz, to the Maison Relais in Wilwerwiltz and to private individuals living in the area. David L'Ortye also sells, through direct marketing channels, the meat obtained from his herd of suckler cows.
Why is it better to purchase regional produce?
People working in the food production sector should enjoy the same standard of living as those who consume the food that they produce.
This social aspect is important to David L'Ortye: "People working in, for example, the vegetable growing sector in our region are paid a decent wage and are covered by social security."
The importation of foodstuffs gives rise, in global terms, to an imbalance in natural resources which destroys entire ecosystems. Environmental and water-related problems are the result of an intensification of agriculture in countries from which we import goods.
"The nutrients and energy which bananas cultivated on a plantation in, for example, Colombia have drawn from the soil, and which they have stored within themselves in the course of growing to maturity, are utilised by us – first by the people who consume them, and thereafter, in the form of the sludge that ends up on our fields", says the farmer.
In the EU, animal welfare and nature conservation laws apply which are not guaranteed in every country in the world. "By buying regionally, one can be sure that one is purchasing foodstuffs that have been produced in accordance with those standards and that the people working to produce them enjoy decent living and working conditions."
Buying regionally means making a contribution to the conservation of the natural environment.