At the Witry organic farm, the 45 dairy cows, 30 beef cows, 15 calves and one bull spend most of the year out in the surrounding meadows. "When the weather's good, they're out there day and night. They come into the barn in winter, but when the ground freezes we also let them back out into the fields," says Pierre Witry. He runs the farm with his wife Caroline Massard. On average, one of his cows produces 25 litres of milk each day. The majority goes to the BIOG dairy, but customers can also buy organic milk right from a pump at the farm itself.
Pierre Witry began the process of converting his farm to organic agriculture in 2006 and has been certified organic since 2008.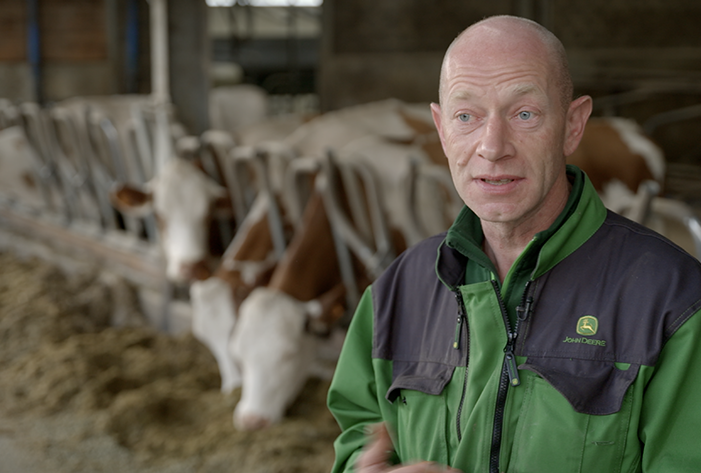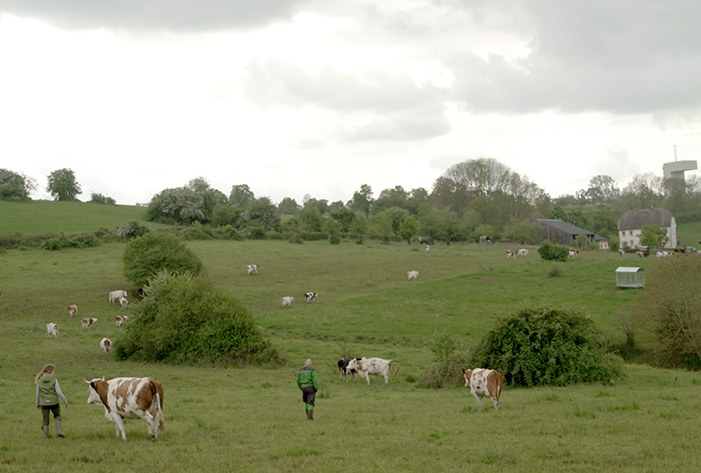 "When I was farming conventionally, I noticed that I was having to spray and fertilise more and more, just to keep my yields up. But that didn't make any sense anymore. I wanted to break free from being dependent on the chemicals industry," Pierre Witry explains. Working organically gives him the greatest satisfaction. "For me, it's the right way to manage the land. It shows me that agriculture can work in harmony with nature."
Forty of the farm's 75 hectares are given over to pasture. The remainder is used as cropland to grow wheat, oats, peas and beans as feed for the cattle. Pierre Witry cultivates mixed crops of cereals and legumes so that the two cultures benefit from each other. Thus, for example, the peas provide nitrogen for the cereals.
But the organic farm doesn't just produce milk and beef. Caroline Massard looks after the farm's pedagogical activities alongside her main career as a primary school teacher. "She has seen in her lessons that many children have no connection to farming and don't know where their food comes from," points out Pierre Witry. He himself grew up on a farm and never thought of pursuing any other career.
Why buy locally?
"If you buy from local producers, you can get an overview of how food is produced. We are in close contact with our customers who come to the farm to buy from us. They are interested in our production methods and get to see them with their own eyes. That gives them confidence in the quality of their food."
Buying regionally and seasonally is good, and if it's organic, even better!