Season the pork cheeks with salt and pepper and leave them to slow-cook in a pot for 2 hours. Sauté the onion in butter until golden, then add the honey and leave to caramelise. Add the beer, herbs, vinegar and raisins and simmer until reduced by three-quarters. After it has reduced, season and use the corn starch to thicken. Add the pork cheeks to the sauce and keep on a low heat until warmed through. Peel the parsnips and cut into large cubes. Whilst doing so, bring a pan of salted water to the boil. Add the parsnips and cook for 12 to 15 minutes. Once cooked, drain the parsnips and add a drizzle of cream and a dash of nutmeg. Purée and season until you have reached your desired consistency and flavour. Arrange the cheeks on the creamy parsnip purée. Serve with dauphinois potatoes or fresh pasta.
4 persons
2.5 hours
© photostudio C. Bosseler
Ingredients
600 g pork cheeks
1 large onion
4 parsnips (around 275 g)
1 litre 'Brune' Luxembourg beer
80 g butter
100 ml whole milk
Corn starch (Maizena)
1–2 tablespoons cider vinegar
1 teaspoon Luxembourg honey
2 teaspoons raisins
2 bay leaves
1 sprig of thyme
3 marjoram leaves
Chopped parsley
Salt, pepper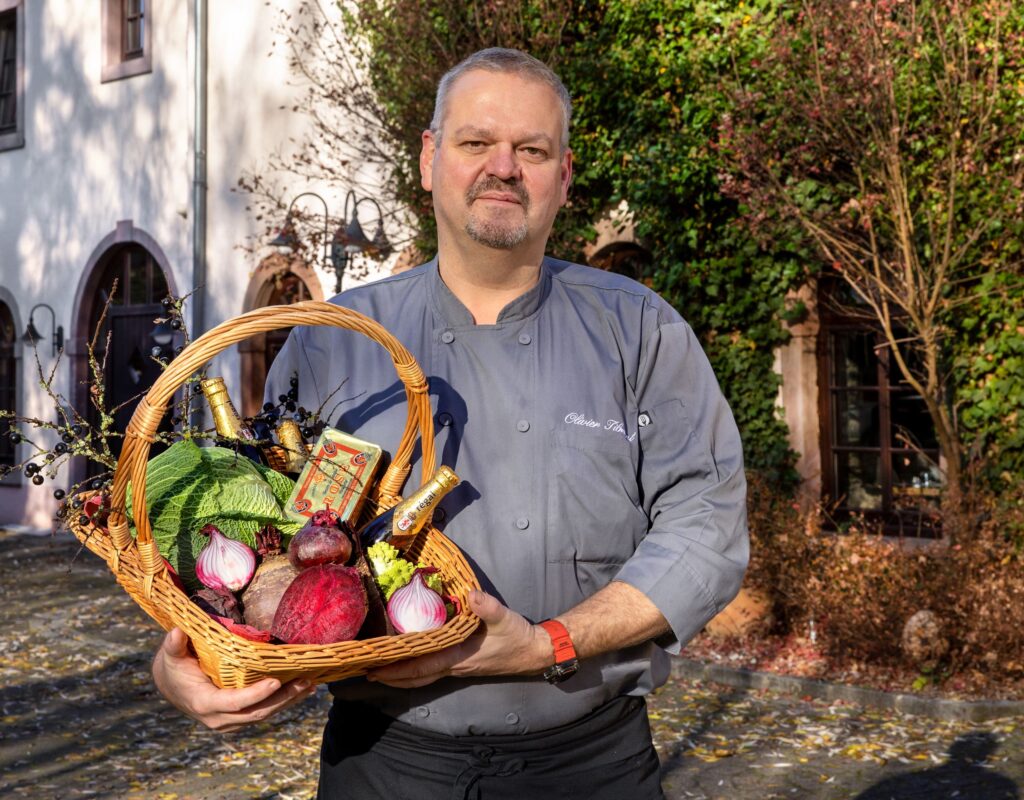 © photostudio C. Bosseler
Philosophy
The chef, Oliver Tilmant, opts for local products to guarantee seasonal produce which are grown with care and outside big, industrial operations. 'Non-industrialised' products guarantee a high-quality raw product with no chemical additives which are often found in mass produced products.
Working with products from around the world doesn't make sense to the Aux Tanneries de Wiltz Restaurant team. "Firstly we want to protect the environment (food miles have a significant carbon footprint) and highlight our local region which is full of great produce. Of course, we occasionally depart from this principle when we use Fairtrade tropical fruit in our desserts," explains Olivier Tilmant.
So in winter we focus on locally hunted meats and winter vegetables such as cauliflower and beetroot. The biggest foodies know that seasonal fruit and vegetables are perfect for our needs and allow us to eat healthily over winter! Finally, to respect our suppliers, we take great care and cook the produce gently in order to preserve the product quality as best as possible.