Mix the fresh goat's cheese and the butter with the finely chopped onion, shallots, garlic and herbs. Season with salt and pepper. Put the creamed preparation into a piping bag fitted with a star nozzle, and leave in a cool place.
Peel and dice the potatoes; put in a saucepan of lightly salted water. Trim the Brussels sprouts and cook them with the potatoes. When both are cooked, drain the two vegetables, separate them and let them drain. Put the milk into the same saucepan, season with salt, pepper and grated nutmeg; add the potatoes and mash with a potato masher. Quarter the Brussels sprouts and mix into the mashed potatoes. Adjust the seasoning if necessary.
Sweat the finely chopped onion and crushed garlic in butter, add the cooked beans and carrots and cook until glazed; season with salt, pepper and savory.
Grill the lamb chops at the last minute, and serve nicely pink on the inside.
4 portions
1 hour
© photostudio C. Bosseler
Grilled Luxemburg lamb chops with goat cheese and herbs cream
1 kg lamb chops
For the cream:
100 g fresh goat's cheese with herbs
100 g butter
100 g finely chopped shallots and onions
20 g crushed garlic
Herbs: parsley, chives
salt and pepper
For the accompaniment:
600 g floury potatoes
250 ml milk
50 g butter
200 g Brussels sprouts
200 g green beans
200 g carrots
Finely chopped onion and crushed garlic
Dried savory

"Les Ecuries du Parc" restaurant in Clervaux.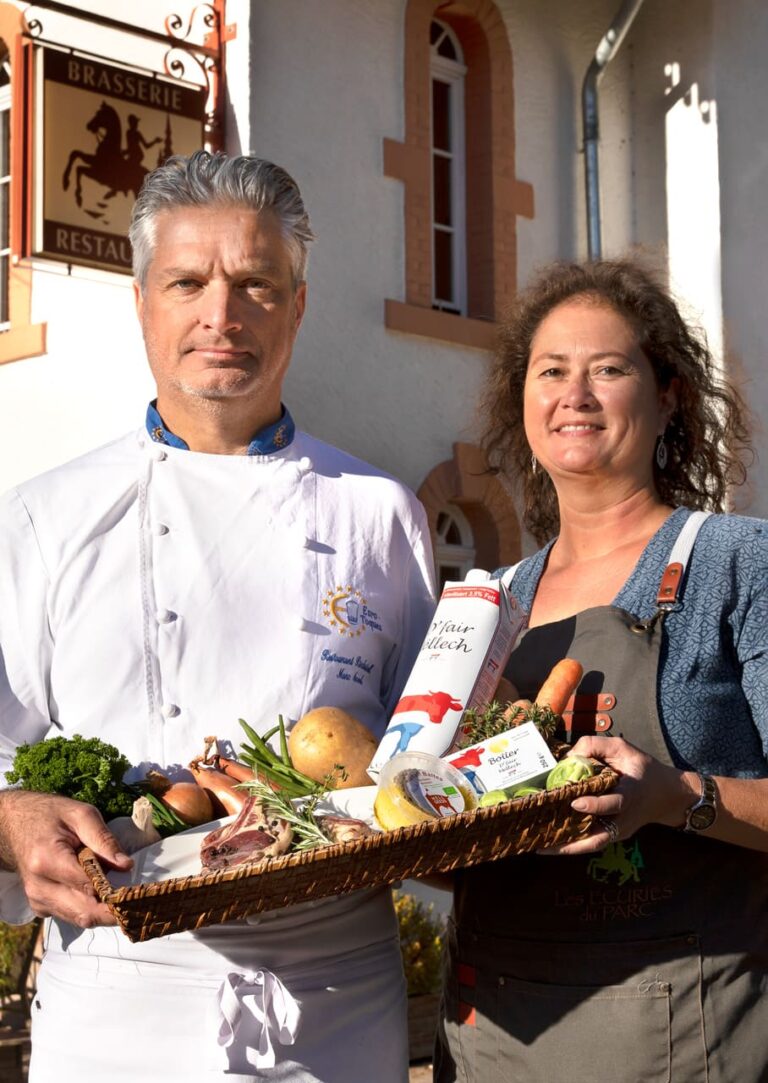 © photostudio C. Bosseler
Specialities
Flour, coffee
Philosophy
Local products and traditional recipes are at the heart of chef Marc Arend's work. To him, it's important to share with his customers his passion for fresh, good-quality products from the local region – as well as his passion for cooking, which he has for years now been passing on to trainees, setting store by a healthy and balanced diet.
"Die Zutaten kommen aus der Region, sind frisch und werden vor Ort verarbeitet", sagt Marc Arend. Das ist im Sinne eines guten Geschmacks und natürlich auch des Klimaschutzes. Dies ermöglicht eine völlige Transparenz in der Lieferkette und somit die Sicherheit der Lebensmittel. Die Karte des Restaurants wird der jeweiligen Saison angepasst, um die natürlichen Wachstumszyklen von Gemüse und Obst sowie die Traditionen der Region zu respektieren.
The ingredients come from the region; they're fresh, and they're processed right here, on the spot