Cut up the red cabbage very finely and slice up the onions thinly, then sauté them together in the hot lard, seasoning them with salt, pepper and cinnamon. Add ½ litre red wine and the vinegar. Leave to simmer slowly, with a lid on, on a low heat. Peel the pears and cook them in ½ l of water with 100 g of sugar until they are soft. Boil down the lingonberries on low heat with 75 g of sugar.
Mix well together, in a bowl, the flour, eggs, ⅛ litre of water, salt and pepper (white, ground), using a hand blender. The dough should remain firm. To cook the "Kniddelen", bring salted water to the boil and then use a tablespoon to separate off small pieces of the dough and place them in the boiling water. The "Kniddelen" are ready when they rise to the surface of the water.
Garnish them with bacon fried in a small amount of butter.
Sear the steaks briskly in hot oil. Wrap in aluminium foil, put to one side and keep warm. Remove the hot oil from the pan, then add a knob of butter to the hot pan and sauté the mushrooms, the finely chopped shallots and the garlic. Add ¼ litre of red wine and season with salt and pepper to taste.
4 persons
2 hours
Ingredients
800 g venison steak
100 g bacon (fat and lean)
400 g organic mushrooms
1 kg raw red cabbage
150 g onions
3 cloves of garlic, crushed
50 g shallots
4 cooking pears (Gieser-Wildeman variety)
100 g lingonberries
50 g butter
100 g lard
500 g flour
175 g sugar
5 whole eggs
¾ litre red wine
¼ litre vinegar
Bay leaf and clove
Salt, pepper and cinnamon

Les Écuries du Parc
in Clervaux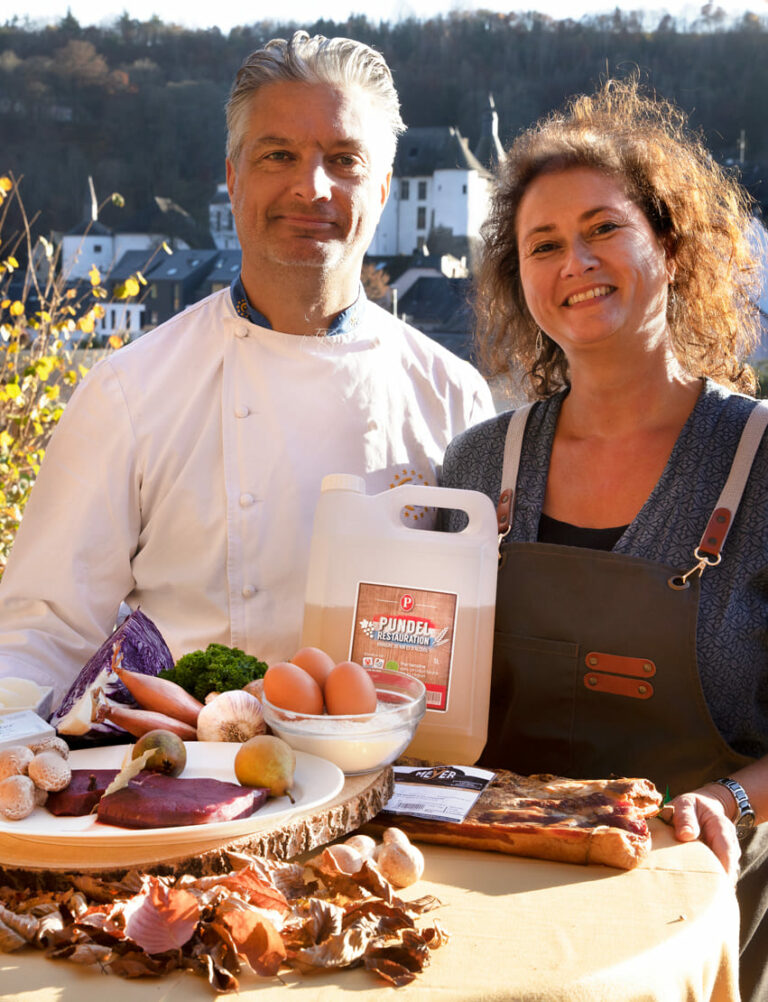 Philosophy
Local products and traditional recipes are at the heart of chef Marc Arend's work. To him, it's important to share with his customers his passion for fresh, good-quality products from the local region – as well as his passion for cooking, which he has for years now been passing on to trainees, setting store by a healthy and balanced diet.
"The ingredients come from the region; they're fresh, and they're processed right here, on the spot", says Marc Arend. This not only means a great taste but also helps to protect the environment. It enables complete transparency in the supply chain and thus food safety. The restaurant's menu is adapted to the respective season, in order to respect the natural growing cycles of vegetables and fruit as well as the traditions of the region.